Easy Versatile Pinto Beans
Jump to Recipe
Print Recipe
Pinto Beans on Taco Salad

Pinto Beans Veggie Burger
Easy Versatile Pinto Beans
Pinto beans are a great protein, especially for Type O blood types. Pinto beans are also very versatile and easy to prepare. While the recipe cook time says 8 hours total, the hands on time is less than 15 minutes! Most of the time is to soak and cook the beans…put the beans out to soak before bed and put them in the crockpot or oven on a timer to cook.
We enjoy making a pot of beans. Our first meal is typically bean soup. Our second meal is usually taco salad with a cup of the yummy beans on top. I then freeze a couple of packages to have for refried beans at a later date.
You can add lots of veggies to make a veggie soup, or eat the beans plain as a soup, which is really delish!
I love, love Tajin Mexican Seasoning with Lime. It brings a nicely spice flavor and an undertone of lime.
Be sure and use Organic Pinto Beans where possible. Organic pinto beans are only a few cents more than non-organic pinto beans and are safer from harmful pesticides, mold and genetically modified organisms.
I love to cook with Himalayan Pink Salt because it is free from environmental toxins and provides 82 minerals needed by the human body.
Ways to use cooked pinto beans
As a bean soup with some of your favorite veggies, add sliced kale, sliced collard greens, sliced swiss chard, chopped onion, chopped carrots, chopped celery, chopped colored peppers, chopped hot peppers (about 2 Tablespoons if you don't want it super hot).
As yummy beans on a taco salad. Make your salad, add beans, avocado, pico de gallo, salsa, all your taco favorites. Top with crushed tortilla chips.
As yummy refried beans for tacos, bean dip, quesadilla or on a taco salad. Put beans in a skillet with some butter or a good olive oil. Smash with a potato masher or fork, cook until mashed and liquid is evaporated.
Homemade yummy veggie burgers are an easy switch from beef or chicken burgers.  Add your favorite toppings and stuff in a bun or lettuce leaves.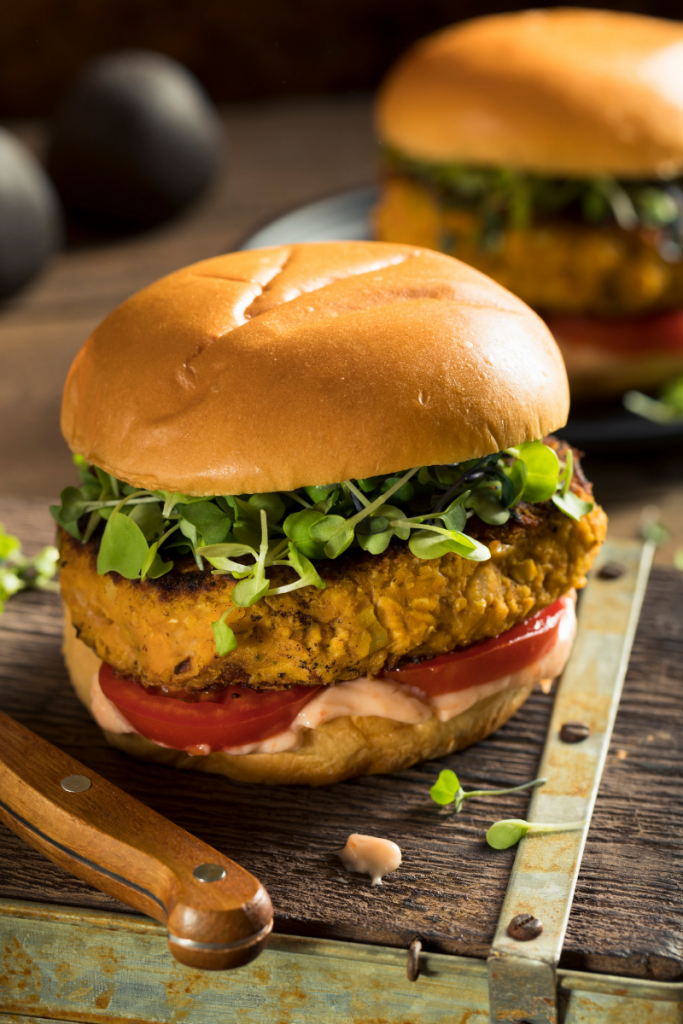 My Red Pot has been a favorite of mine since 1986! I make Easy, Versatile Pinto Beans, sourdough bread, roasted chicken, pot roast, porcupine meatballs. Everyone needs one!
Disclosure: The product links in this post are to my Amazon store.  If you purchase products through the links provided you don't pay any more and I receive a very small percentage.  I only recommend products I use and love.  Your purchases through my store help to pay the expenses of this blog and website.  Thank you!
Print Recipe
Easy Versatile Pinto Beans
Pinto beans are a nutritious and simple protein. They are super easy to make and can be used in many ways!
Ingredients
1

pound

dry pinto beans

preferably organic

4

cups

Filtered water

1-2

teaspoons

Tajin Mexican seasoning with lime https://amzn.to/2yzXHeX

1

teaspoon

dried oregano

or 1 Tablespoon fresh oregano

1

teaspoon

Himlayan pink salt

(to taste)

Optional: veggies

onion, garlic, carrot, celery, colored peppers, poblano peppers, jalapeno peppers
Instructions
Soak Beans – this will take you about 10 minutes
Rinse beans in a colander, pick out any rocks (yes there may be rockwash them good sometimes there are dirt clumps…this is real food :0)

Cover rinsed beans with fresh water and soak overnight.

You want to have the water about 4 inches or so above the beans, so you need a big pot. I used my 5-quart Dutch oven.
Cook Beans 2-4 hours approximately
Rinse beans again and cover with water, with about 2-4 inches over top of beans.

Add Tajin or any chili type seasoning you enjoy.

Add dried or fresh oregano.

You can add any veggies you like in the last hour of cooking.

Cook beans on stove top at medium or in the oven at 350.

Cooking time depends on how long you soaked your beans and how high your elevation is. We live in Tennessee and it took about 3 hours to cook the beans.

Watch the beans to be sure they don't boil over or run out of water. The beans are ready when you can smash with a fork.

I used a potato masher to smash some of the beans up and make the broth a little thicker.
Notes
You can freeze this bean mixture. Just put in a freezer bag, pat out the air and seal, freeze flat and then store in a used spinach box in your freezer. Be sure to mark what is in the package and the date.