Low Carb Butternut Squash Enchilada Bake
Jump to Recipe
I love Mexican food and especially enchiladas, but let's face it, making enchiladas is time consuming and messy. These Low Carb Butternut Squash enchilada bake is just as yummy, easy to make and stores and freezes well. Try it! See the notes for extra info and serving ideas.
Nutrition Info: Calories: 242, Protein: 14gr, Carbs: 19gr, Fat: 13gr, Fiber: 4gr, Sugar: 6gr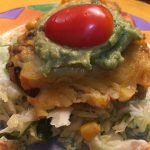 Print Recipe
Low Carb Butternut Squash Enchilada Bake
A delicious, low carb enchilada that freezes well…a favorite at our Healthy Living Potluck. This would be a great dish to make ahead, freeze in individual serving sizes or take to a dinner or event. #justdontsayitshealthy
Ingredients
4

cups

roasted butternut squash cubes

2

Tablespoons

avocado oil

Kosher salt

Freshly ground black pepper

1 

large onion

chopped

3 

cloves

garlic

minced

1

lb. 

organic grass-fed ground beef or make it vegan with 2-3 cans of black beans

1/2

tsp

Hungarian paprika

1

tsp. 

ground cumin

1/2

tsp. 

kroger 6-chili powder

1/8-1/4

teaspoon

red chili pepper flakes

1 ½

cups

frozen organic corn or canned corn drained

1 

15.5-oz. can black beans, drained (2-3 cans if you are omitting hamburger)

1 

10-oz. can enchilada sauce

4

slices

Boar's Head Chipotle Gouda Cheese

this is 2 oz of cheese

½

cup

organic cheese

1/2

c. 

quartered cherry tomatoes

Angel Hair shredded cabbage

Guacamole

Freshly chopped cilantro

for garnish (optional)
Instructions
Toss Squash cubes in 1 Tablespoon oil, spread on a baking sheet, Bake at 400 for 30-35 minutes.

While the squash is baking:

In a large skillet over medium heat, heat 1 tablespoon oil.

Add onion and cook until soft, 5 minutes.

Stir in minced garlic and cook 30 seconds.

Stir in beef, add spices, break up meat to crumbly and cook until no longer pink.

Stir in corn, black beans, enchilada sauce, cook until sauce is thickened (like a very thick chili).

Gently Stir in Butternut Squash and simmer for 5 minutes.

Grease 9×13 pan with organic butter.

Place the butternut squash mixture in the 9×13 pan and pat to even out.

Place the squares of Boar's Head Chipotle Gouda on top of squash mixture.

Top with grated organic cheese.

Bake at 400 for 15 minutes until squash mixture is bubbly and cheese is melted.

Allow to sit for 15 minutes before serving.

See notes for plating and serving suggestions and Cilantro Lime Coleslaw recipe.
Notes
Cilantro Lime Coleslaw
1 package Angel Hair Shredded Cabbage, 2-4 Tablespoons Cilantro, 10 cherry tomatoes, chopped or sliced in half, 1/4 cup extra virgin olive oil, 1 lime juiced, 1/2 Tablespoon Raw honey or 100% organic maple syrup, 1 garlic clove minced, 1/4 tsp red pepper flakes (optional), 1/8 tsp Himalayan pink salt or Celtic sea salt.
Should you use a whole squash or purchase butternut cubes frozen or fresh from the produce section of your grocery store?
This is up to your cooking skills and time. You can bake a whole squash, scoop it out and use the squash rind for a bowl…this looks cool! But I have not had good results with this, the rind was too fragile to use. Also, it is much more time consuming to cook the whole squash and then do the other steps.
If you choose to use frozen or already prepared butternut squash cubes, you can roast the squash and prepare the other ingredients at the same time. Best flavor is achieved by preparing a day ahead of time to allow flavors to meld, this is a great recipe to make ahead and freeze or make a day ahead for a potluck or event. Butternut squash has high nutritional value, is high in fiber, eliminating typical corn tortillas for enchiladas saves you about 10 grams of carbs.
Use the filling for Butternut Squash and Black Bean Tacos
In a tortilla of your choice (Siete brand tortillas are gluten free), layer the Cilantro Lime Coleslaw, butternut squash enchilada filling, guacamole and salsa. You could also use this as a topping for a taco salad. Possibilities are endless with this yummy veggie!