Alkaline 3 Minute Salad
Alkaline 3 Minute Salad
When you begin to change to a healthier diet you often get SICK OF SALAD…right?  Lol.  I understand.  BEFORE we become aware of the importance of real food, we think of a salad as lettuce, tomatoes, cucumbers, croutons, oh yeah and smother that with ranch dressing.  As my husband Phil used to say… I'll have lots of blue cheese please; like my lettuce is coming up for air for the last time.
Eat Veggies, lots of them!
When you think of eating more veggies and especially more RAW veggies you balk…I can't do salads all the time.  Take heart, there IS a solution…explore other raw veggie options.
This trick is awesome because you can pick up already prepared veggies from the produce aisle, buy an organic bottled dressing and mix together, a simple, tasty different type of salad…trust me you'll love it.
I call it the 3 minute salad because that's how long it takes to cut open the bag of veggies, open a bottle of organic salad dressing and mix them together.  If you purchase veggies that are "hard" as opposed to "soft" the veggies will soften up and have the texture of cooked veggies in a few hours, after you allow them to marinate in the dressing.
So here are some tips…
It's always better to buy organic veggies…HOWEVER…if you can only buy non-organic, do it!  IF you have cancer definitely go for organic as much as possible, preferably totally organic.  But, again, a bag of non-organic veggies beats a fast food meal anytime.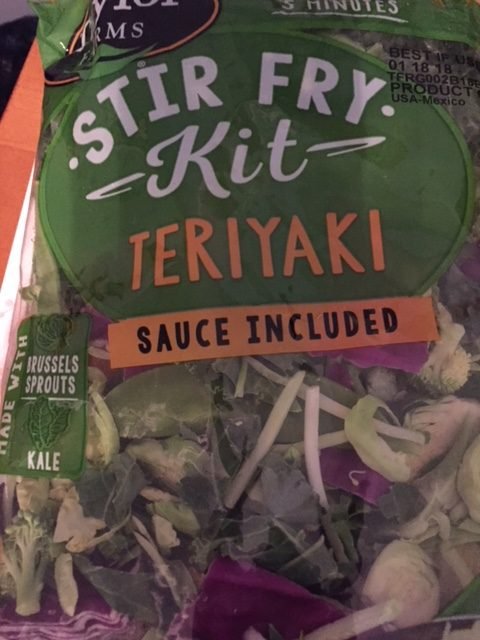 This is a bag of non-organic veggies (the organic ones were gone because we have a threat of snow here in the south so the entire store was a shambles of empty shelves).  This bag of veggies cost $2.99.
THROW AWAY THE SAUCE IN THE BAG….
YES I AM YELLING…
THROW AWAY THE SAUCE…IT'S JUST A BUNCH OF TOXIC CHEMICALS.
DID YOU THROW AWAY THE SAUCE?
….Open the bag and throw away the sauce.  Whew…thank you.
Put the veggies in a large bowl you can cover with a lid or some kind of wrap.
---
Now for the hard part…the dressing!
I used an organic Asian dressing I had at home.  You can find them at any grocery store.  Often I make my own dressing because dressings, even organic ones, tend to have a lot of soy products in them.
I like Panera's food so I decided to try their bottled dressing.  It does have soy in it and I'm sure it is genetically modified soy…so I probably won't buy it again.
---
Choosing a healthy bottled salad dressing – Read the ingredients
You can see this dressing has soybean oil and dried cane syrup and some herbs.  Rosemary extract is an anti-microbial natural preservative some food manufacturers use in place of toxic chemical preservatives like EDTA and MSG.  So over all it's a better choice.  The dressing does containe Cane Sugar, however, it is a small amount with less than 1 tsp per 2 Tablespoons.  Food Babe has a good article on chemical preservatives.
---
Drizzle – Not Dump!
You really don't need very much dressing.  Drizzle it over the top of the veggies and toss well.  Drizzle enough so that all veggies are covered.
When you are ready to serve the salad toss again and serve over leafy greens.  Shredded angel hair cabbage, which you can also purchase prepared, is a good option too.
If you want an asian flavor add some toasted sesame seeds and a mandarin orange (cutie or halo) or two.  You can also add 2-3 oz of pasture raised chicken or turkey.  Top with the Thai Golden Dragon Sauce and add some chopped cilantro and toasted pumpkin seeds.
The Thai Golden Dragon Sauce is what makes the salad so don't leave it out…it's quick and easy to make; add it to your shopping list.
THIS ALKALINE 3 MINUTE SALAD IS THE BOMB!
You will love it.  If you are vegan or vegetarian skip the chicken and add your favorite white bean or chick pea OR a handful of cashews is also yummy.
---
Prefer Italian over Asian?
For an Italian Alkaline 3 Minute Salad, use an organic Balsamic vinaigrette, add perperoncini, artichoke hearts and your favorite olive.  Use fresh Italian parsley instead of cilantro.  Drop the Avocado and use some organic raw feta.  Add organic cherry tomatoes when serving and serve over crisp Romaine lettuce.
I'd love to hear your version….
SaveSave
SaveSave
SaveSave
SaveSaveSaveSave
SaveSave
Print Recipe
3-Minute Salad
Bagged veggies and an organic salad dressing, throw in some nuts, seeds, and avocado and mandarin oranges and you'll think you died and went to Panera.
Ingredients
1

bag

stir fry veggies

organic is best

1

avocado

sliced or chopped

2

mandarin oranges

separated into slices

1

red onion

thinly sliced

optional

2

Tablespoons

toasted sesame seeds

2

Tablespoons

toasted pumpkin seeds

1/4

cup

cashews

optional
Dressing
1

bottle

Asian Dressing

organic is best

1

recipe

Thai Golden Dragon Sauce

This is a peanut-type sauce made from almond butter

1-2

Tablespoons

fresh cilantro

chopped
Instructions
Pour veggies in a large bowl Toss with salad dressing Cover to marinate
To serve
Toss veggies again to cover with dressing Serve over leafy greens Top with avocado slices, orange slices, seseame seeds, pumpkin seeds and Golden Dragon Sauce. Add slices of organic chicken or turkey If Vegan add cashews or your favorite bean. Garnish with Chopped Cilantro.

Recipe for Thai Golden Dragon Sauce Ingredients: Raw Almond Butter Pineapple VeriTeriyaki Sauce Braggs Amino Acids or Coconut Aminos Sriracha Sauce