Fabulous Gluten Free Pizza
Jump to Recipe
Print Recipe
This Fabulous Gluten Free Pizza Crust is delicious, has a great texture and holds all your toppings without getting soggy or saggy. 
Phil and I have been together since 1973 so we've had many "firsts" in our lives. The first time we both had "store bought" pizza was in 1973 at Pietros Pizza in Salem, Oregon. I think our mom's probably made the box of Chef-Boyardee pizza at home. Uhhh…that was NOT the same!
This was also the first time we spent any time together. We were on a group date, we were with other people, not each other. I must say it was love at first sight…for pizza and for each other!
Our pizza choice was the one with the fresh tomatoes on top, and we also both enjoyed the Hula Lula, which has fresh pineapple on top. I've only seen these styles of pizza on the west coast.
It was also our first love for each other. We both remember Phil driving away in Dave Radke's car with his date and looking back at me as I walked across the street with my date…our eyes met and the rest is history. We were an "item" in a matter of weeks and still are in love today.
We LOVE pizza and have purchased pizza from our favorite pizza place, Marco's here in Tennessee about once a month. We love Marco's Pizza but…it's not gluten free so this isn't the best for Celeste, AND one pizza costs about $30 by the time you add tip, tax and delivery. Yikes! That is a lot of moo-lah for us retired on 2k folks, he he…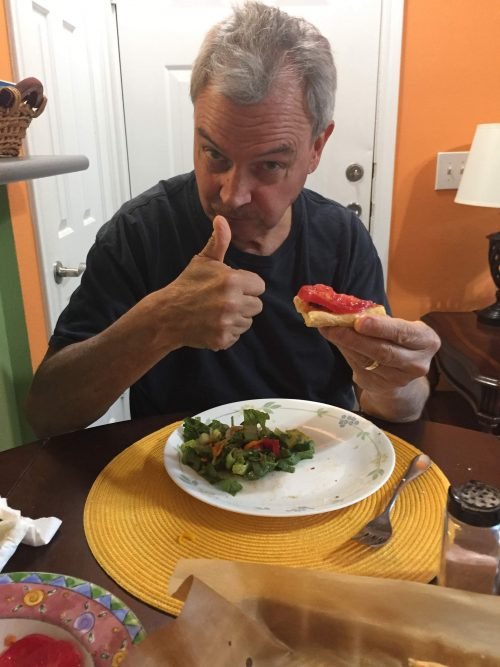 Phil loves this Gluten Free Pizza and if he likes it then I know I can make it regularly…BONUS! This "Everything" pizza only cost us $6…that is a $24 savings, so we can have pizza 4 times a month!
This Fabulous Gluten Free Pizza Crust is super simple to make, it only took me about 10 minutes from mixing to the oven. I baked the crust while I was prepping the toppings and making the sauce. Then another 15 minutes in the oven to melt the cheese…so no longer than it takes to get a delivery pizza but sooo much better and better for us!
West Coast style pizza is quite different from anything we've experienced here in Tennessee, which leans more towards a New York style Italian influence. You know the big floppy pieces you fold in half that are dripping with oil, and of course we like those too. However, our true love is the West Coast style with fresh tomatoes or pineapple on top. Today we enjoyed fresh heirloom tomatoes on our Fabulous $6 dollar Gluten Free Pizza. Yummm!
Print Recipe
Fabulous Gluten Free Pizza
This gluten free crust has a wonderful firm texture, it's not soggy or saggy. You will make this on a sheet of parchment baking paper, directly on the oven rack. This gives it a perfect firm but tender pizza crust. This recipe would also make yummy bread sticks.
Equipment
Parchment baking paper, mixing bowl, measuring cups or food scale and measuring spoons, heavy spoon for mixing, cutting board or small cookie sheet for serving.
Instructions
Mix up the crust
Mix dry ingredients in a large bowl – Bob's Red Mill 1-1 Baking Mix, Almond flour, baking powder and salt.

Stir in yogurt and olive oil.

Stir until forms a smooth ball, it will be soft, kind of like a biscuit crust.

Tear off parchment paper just slightly smaller than your oven rack. This is what you will make your pizza crust on.

Sprinkle about 1 Tablespoon Bob's Red Mill 1-1 Gluten Free Baking mix on the parchment paper and spread it around.

Put the ball of pizza dough on the parchment paper, smooth it out and press it out into a circle or oblong, whatever shape you like. If cracks form just push them together with your fingers. Make the crust as thick as you like, but not paper thin. It will rise a little while baking.

Dock the dough by poking it with a fork, this keeps it from puffing up.

Brush the pizza top with olive oil, including the crust.

Bake the pizza dough on the oven rack (no toppings yet, for 15 minutes at 400 F (200 C)

Carefully remove the dough from the oven rack. Don't burn yourself or break the crust
Assemble Pizza
We use 10 slices Boar's head nitrate free pepperoni, and ¼ pound grass fed hamburger, thin sliced onions, peppers and 6 ounces of your favorite cheese. We like to use an organic cheese. In this picture we used organic cheddar and organic pepper jack.
Layer toppings in this order
Sauce

Cheese, you can use grated, sliced or crumbles

Meats (if used)

Veggies (if used)
Finish Baking Pizza
Bake at 425 F (220 C) for another 10-15 minutes until cheese is melted and bubbly.

Allow pizza to rest for 10 minutes before cutting and serving. I like to top with fresh minced basil.
Notes
We like our pizza "West Coast Style" with fresh tomato slices on top! This pizza was a real treat because we had fresh heirloom tomatoes on top.
Allow pizza to cool for about 10 minutes before cutting and serving. Serve with a crisp salad.
This Fabulous Gluten Free Pizza is also yeast-free and could be dairy free if you use an almond or coconut yogurt.  I think if you use an alternative yogurt you might want to put some garlic and herbs in the crust to avoid a strong coconut or almond tasting crust.
If you are allergic to the almond flour you can replace it with the same amount of Bob's 1-1 Gluten Free Baking mix or another nut flour.  I would not use oat flour as it would be too crumbly.
I love to dip my pizza end crust in olive oil and balsamic vinegar. You can see that the end crust is also nice and firm .
One final thought…the ingredients to make this pizza can be spendy the first time you purchase them, but once they are a part of your pantry you can make a $6 pizza too! I purchase a pound of grass fed ground beef and divide it into 1/4 pound patties and freeze individually. So I just pulled one out to fry up for a topping. I also purchase our Boar's Head Nitrate Free Pepperoni in 1 pound packages, then divide and freeze in ziplock baggies. This is how we get our price on our pizza down so low.