Fabulous Chicken Gravy
Roast chicken and mashed potatoes and gravy are a true comfort food. There is no comparison between homemade and restaurant or "store-made" roasted chicken and gravy. The best gravy starts with a quality stock from a fresh, roasted organic chicken.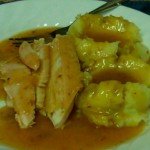 Print Recipe
Fabulous Chicken Gravy
When your chicken is roasted you will have a pan full of rich drippings; use this to make your gravy. don't want to dilute the gravy too much because you will lose it's wonderful, natural flavor. An average sized chicken should produce about a cup and a half to two cups of drippings. Add less than one cup of water to this and simmer for a few minutes. Puree the roasted garlic from inside the chicken cavity with a little of the stock and return to the drippings.
Ingredients
2

cups

roasted chicken drippings
Instructions
Mix two tablespoons organic corn starch with one-half to one-cup COLD water, stir until well blended.

Slowly pour the corn starch mixture into the drippings, stirring constantly. You may not need all the corn starch mixture, cook and stir until thickened for gravy.

Taste and add Celtic sea salt and/or ground red pepper or ground white pepper to taste.

Keep warm on low temp until ready to serve. Serve over roasted chicken, potatoes and/or stuffing.