Day 20 Watch and Wait for Your Groom
Watch and Wait for Your Groom!
The Esther ritual was working! Feeling better than ever physically, every night Sarah would sit by her window to watch and wait for Jacob, her groom.  Each night, after Hannah read from the Song of Songs and went to sleep, Sarah quietly slipped to the window, searching the night for a glimpse of Jacob, coming for his bride.  It must be soon!
I must go to my groom!
One night Sarah's heart leapt as she heard a party coming in the distance.  It's Jacob, coming for me…I know it!  She began to gather her wedding truseau, "Hannah", she shook her maid, "it's the wedding party, I hear them coming, quick we must be ready!"  Hannah rose slowly and uncertainly.  Something was not right.  She went to the window with Sarah, surely a group of men were coming to the window, calling her name; but Jacob was not with them.
"Sarah" they heard a man's voice.  "Sarah you must come with us.  Jacob is waiting in the olive grove, he sent us for you."  Sarah continued to gather her things, not wanting to be left behind.  Hannah went to the window.  "Where is Jacob?"  she asked the men.  "He's waiting in the olive grove.  He sent us for Sarah." they replied, "send her out to us now, we must go quickly!"
Her comforter and guide grabbed Sarah tightly.  "No! She will not go with you.  Jacob would not send someone else for his bride."  Sarah was upset, "Hannah, they told you he is waiting in the olive grove, it is time, I must go!"  Again, Hannah held her tight.  "Sarah, Jacob told you HE would come for you.  He is continuing to provide for you as he said he would, the time is soon but this is a trick, a trap to disgrace you and sabotage your marriage to Jacob."
The young woman began to cry and tried to break away from Hannah.  Hannah went to the window again.  "You go now and do not return to this house.  If you do not leave immediately I will get the head of the house, Sarah's father and you can answer to him."  With that the men laughed and ran away from the house.
"I don't understand.  Why did you send them away?  This was to be my night.  This is what I have been waiting for.  I don't mind that he sent for me instead of coming to get me.  Why did you do this?  Hannah you have ruined my life! Now Jacob will never want me!"
Destiny attacked
At that moment they heard another voice softly calling from the window.  It was Jacob's friend, Hiram.  "Hannah", he said, "you were right to keep Sarah home.  This was a trap to get Sarah away from Jacob and dishonor her.  Many in the village are jealous over Sarah's beauty and skills and would love to trap her into marrying them instead.  Tell Sarah to be patient and never to go looking for Jacob.  When the time is right he will be here.  He is waiting for his father to say Go and Get Your Bride…it will be soon" and Hiram disappeared.
Sarah doubled over in panic and in fear.  They were trying to kidnap her.  They were trying to keep her from her destiny as Jacob's bride.  Hannah's intuition was right she was only protecting her.  Sarah fell into Hannah's arms sobbing.  "Thank you my friend, my protector.  Thank you for warning me and keeping me from this horrible mistake.  Thank you for keeping me for my groom."
***********************************************************
Watch and Wait for Your Groom…
Our groom will come for us
Jesus warned us not to go looking for him, he will come for us.
Matthew 24: 23-26
23 At that time if anyone says to you, 'Look, here is the Messiah!' or, 'There he is!' do not believe it. 24 For false messiahs and false prophets will appear and perform great signs and wonders to deceive, if possible, even the elect. 25 See, I have told you ahead of time.

26 "So if anyone tells you, 'There he is, out in the wilderness,' do not go out; or, 'Here he is, in the inner rooms,' do not believe it.
The time of Jesus return is soon.  There are often "movements" that rise up and Christians flock to these cities to experience God.  We long for God's presence in our mixed up world.  Jesus wants us to remember we can experience His presence daily, even in our home, because He is….Immanuel, God with Us.
The scripture does admonish us to watch and wait for Christ's return and be ready…
Matthew 24:42-43
"Therefore be on the alert, for you do not know which day your Lord is coming."
Luke 12:35-38
 "Be dressed in readiness, and keep your lamps lit. "Be like men who are waiting for their master when he returns from the wedding feast, so that they may immediately open the door to him when he comes and knocks. "Blessed are those slaves whom the master will find on the alert when he comes; truly I say to you, that he will gird himself to serve, and have them recline at the table, and will come up and wait on them.

"Whether he comes in the second watch, or even in the third, and finds them so, blessed are those slaves.
Our flesh makes it difficult to Watch and Wait for Your Groom
Often we have "felt needs" that are not being met.  Financial peace, a desire for loving relationships or recognition and power may call out to our human nature and "kidnap" us from watching and waiting for the voice of our groom.
These "fleshly" desires are strong and can captivate our attention.  We may even convince ourselves that provision or relationships that do not align with the principles laid out in God's word are from God.  The Holy Spirit, like Hannah, will provide warnings.  He will caution us and even set up hedges of protection to keep us from being led astray.
I find it extremely helpful to daily renounce the works of the flesh, found in Galatians 5:19-21 and Colossians 3: 5-9.
19″The acts of the flesh are obvious: sexual immorality, impurity, and debauchery; 20idolatry and sorcery; hatred, discord, jealousy, and rage; rivalries, divisions, factions, 21and envy; drunkenness, carousing, and the like. I warn you, as I did before, that those who practice such things will not inherit the kingdom of God." Berean Study Bible
Colossians 3:5-9
5Put to death, therefore, the components of your earthly nature: sexual immorality, impurity, lust, evil desires, and greed, which is idolatry. 6Because of these, the wrath of God is coming on the sons of disobedience.b 7When you lived among them, you also used to walk in these ways. 8But now you must put aside all such things as these: anger, rage, malice, slander, and filthy language from your mouth.

9Do not lie to one another, since you have taken off the old self with its practices, 10and have put on the new self, which is being renewed in knowledge in the image of its Creator. 11Here there is no Greek or Jew, circumcised or uncircumcised, barbarian, Scythian, slave, or free, but Christ is all and is in all.
Putting it into practice
For 6 weeks every day I read these passages out loud and said…"I renounce ______"  and listed the works of the flesh out.  God knows that our human desires are prone to these weaknesses and when we renounce those weaknesses we break their power over us and Create Space for God to fill us with His Spirit.
After I renounced the works of the flesh I then acknowledged the character that comes from God and called it forth in my life;  the fruit of the Spirit in Galatians 5: 22-23 and the clothing of the dearly loved child of God in Colossians 3: 12-15.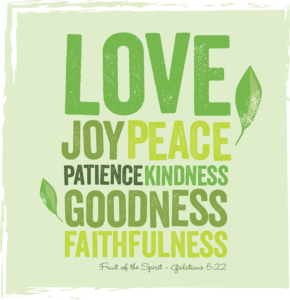 Focusing on renouncing my fleshly desires and receiving the fruits of the Holy Spirit and clothing myself as a dearly loved child of God had a huge impact on my thinking…and my personal struggles.  Dr. Carolyn Leaf tells us that if we focus 7 minutes per day creating space in our minds and hearts for God's word and His ways, it actually, literally changes our brain!
And then there is Self Control….Our fleshly longings can so quickly draw us away into utter destruction but God sent us the Holy Spirit to be our comforter, counselor and our guide.  We must learn to recognize His voice and listen to Him.
Hebrews 3
v1 Therefore, holy brothers and sisters, who share in the heavenly calling, fix your thoughts on Jesus, whom we acknowledge as our apostle and high priest

v7  So, as the Holy Spirit says: "Today, if you hear his voice,8 do not harden your hearts.
What does it mean to "harden your heart"?
It is those times when our fleshly nature or oppression by the enemy of our soul or even times of trouble when we are looking for relief.  It is in those times when the urge is so strong to gratify the flesh, to seek relief, it is those times when we must not react to our flesh – or someone else's.  We see our child, our spouse, our friend hurting in their flesh as Sarah did.  Longing for relief and we want to remove the pain but we cannot if the relief we seek is away from God.  Jesus is our Groom and the Holy Spirit is our comforter, like Hannah, to keep us from being drawn away and missing the our destiny….as the Bride of Christ.
Respond in the Holy Spirit
In February of 2016 I received one of the worst calls you can possibly receive.  My niece MacKenie Noel Lyman was murdered in cold blood, along with her boyfriend, by their roommate.  My heart and mind raced and exploded with emotion.  After the initial tears I heard the Holy Spirit loud and clear.
"Do not react in the flesh, instead RESPOND to the voice of the Holy Spirit."
There have been many times over the past year as fall out from this tragedy sweeps my personal family, MacKenzies family and our extended family.  During conversations of outrage, revenge, justice withheld the Holy Spirit's whisper becomes a roar…drowning out the desires of the flesh and the taunts of the enemy…"Do not react in the flesh, instead, Respond to the voice of the Holy Spirit.  This voice is our protection, our comfort, our friend and our guide.
We may feel desperate for answers but we must allow that desperation to turn us to seek The Lord and listen to His Spirit as we Watch and Wait for Our Groom.
---
About the Author: Celeste Davis, is a passionate follower of Jesus Christ with a heart to walk fully in Covenant with Him. As Founder of The Wellness Workshop, Celeste's heart is to teach women and impact their families to "Be Nourished" as opposed to dieting or trying different life strategies. We nourish our bodies with God-Made Food, our Souls with God-Made Relationships and our Spirits with the Word of God and Prayer. More Info about Celeste.