Brain Focus Smoothie
Brain Focus Smoothie, aka the "Better Than Adderall Smoothie" increases brain power and focus for study or work.   Healing to the entire body.
My friend recently reminded me that Adderall is becoming quite popular among young students and even executives.  They use Adderall to increase focus and create a sense of endurance.  What's so bad about that? Adderall is a chemical cousin to Methamphetamine and dangerous for those who don't really need it to control a true medical problem.  
This Brain Focus Smoothie "Better Than Addreall" is based on recommendations in this article, Natural Alternatives to Adderall (1),  made by Ehsan Ali, MD, the Beverly Hills Concierge doc.
Let this true story convince you of the long term crisis Adderall can create in your life…or the life of your child – from the New York Times, Generation Adderall. (2)  
We send our children to college to learn to work hard and get a good education so they can be successful in life.
The Brain and the Physical Body are the vehicles for hard work, good grades and overall success!
It doesn't matter how much you "know" or what kind of skills you develop if your brain and/or your body don't work properly for the rest of your life…am I crazy here?
So to end my rant, if you are a college student, a young adult trying to "work your way to the top" or a parent, close friend or significant other to any of the above, ENCOURAGE proper self-care.
IF you are a high-school or college professor, administrator or decision maker, PLEASE consider making proper self-care part of the every day life of your students.  THIS is the most important tool they can carry through life.  Anyone, at any age, can learn to use a computer, calculator, negotiate, speak in public or write a paper, but if they don't have their brain and their body these skills are USELESS!
My rant is over…now to the smoothie…
The Brain Focus Smoothie is great for us older folks too…improve cognition, memory and feel happier!  Phil and I enjoy one every day.
The ingredients in this smoothie are known to increase alertness, and help you sleep better.  Food, rather than drugs, will increase your performance putting you WAY above your competitors or classmates who use Adderall because you won't have crashes, anxiety attacks, schizophrenia, depression, or psychosis, to name a few.
If you are a senior and concerned about too many "senior moments" this smoothie is for you!
Brain Focus Smoothie Recipe
Magic Bullet or high speed blender or shaker cup if you don't use any fruit
Layer in this order:
1 cup filtered cold water or your favorite alternative carrageenan free milk
1 scoop ProPeas Plant Protein – Clean, vegan, useable concentrated plant protein   
2 teaspoons of Cocoa LeafGreens   
1 Tablespoon Navitas Raw Cacao
2 Tablespoons Organic Chia Seeds (white or black) I use white chia seeds in my chia pudding (only because it looks better) and black chia seeds in everything else…
1-2 cups raw organic spinach
½ cup fresh or frozen berries (blueberries or any fruit you like) blueberries make it purple rather than green – spinach will give it a green hue with lighter fruits like mango/pineapple.  Fresh or frozen cranberries are my current fav and give it a pink hue.
Optional:  Ice, ½ banana, 2 Tablespoons Almond butter (the almond butter helps you stay full longer)
Make Your Smoothie Into a Bowl by using less liquid and topping with yummy crunchies like crushed nuts and seeds.
FOODS THAT INCREASE BRAIN POWER
Fish: Salmon, Trout, Halibut
Red Meat: Grass Fed Hamburger, Steak, Bison
Black Beans
Bean Salsa Salad (page 233 in original spiral bound Wonderfully Well book or Page 253 in Amazon paperback version https://amzn.to/2PJylqi
Nuts and Nut Butter
Avocado 
FOODS THAT INHIBIT BRAIN POWER AND ALTER FOCUS
Sugar
Non-sprouted wheat products (regular breads and pastas)
Trans Fats and Damaged fats found in fast foods and processed foods and junk food
Alternative sugars such as Splenda, and all the pink and yellow packets and foods made with Sucralose (these kill brain cells)
Sodas, including diet sodas (these kill brain cells)
Alcohol
Affiliate disclaimer: There are affiliate links to some products in this smoothie recipe.  I only recommend products I use and know to be of the highest quality.  Purchasing through these links does not cost you any more money but does help to support the valuable information in this site.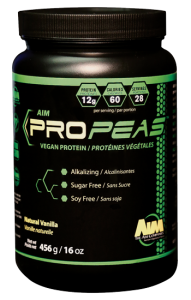 ProPeas Plant Protein"Assists with weight management. Helps build and maintain healthy muscles. Improves circulation and calcium absorption. Increases energy and endurance. Provides a feeling of fullness (satiety). Boosts metabolism. Vegetable protein promotes a healthy pH balance. Non-GMO, Gluten-Free, & Certified Vegan". (4)
ProPeas Plant Protein is the cleanest protein powder you can buy. All AIM products are tested to be pesticide and herbicide free and tested for over 300 other contaminants. It is a low carb, high protein concentrated pea protein, not an isolate. All the cofactors needed to make this protein useful are in the product.
AIM Fit'n Fiber is a simple and delicious way to add more brain power to your smoothie. The connection between the brain gut micro biome functions are highly researched.
The graph below shows how butyrate in fiber impacts brain related dysfunctions.
Simply put, butyrate supplies "brain food" (neuro = brain, trophic = food) to the hippocampus, the brain's hub for memory and emotions. This gives birth to new neurons, called neurogenesis, a process that can reshape the brain. (6)
Cocoa LeafGreens is an alkalizing chocolate with 4 types of leafy greens and broccoli sprouts to enhance brain function and overall health.
Contains the flavonoids kaempferol and quercetin not found in all greens products
0 grams of sugar
High levels of natural chlorophyll, 21 mg per serving
Contains the recommended 400 µg of sulforaphane per daily serving
Barley leaf, spinach, kale, arugula, Swiss chard and broccoli sprout powders and cocoa powders
Vegetable source of potent antioxidants, flavonoids and other vital nutrients
Boosts mood and cognitive function
Cleansing, energizing chocolaty greens (5) 
Choose a Carrageenan-free Alternative Milk
Get Wonderfully Well on Amazon: https://amzn.to/2PJylqi
Sources
(1) 5 All Natural Replacements for Adderall
(3)  7 WORST Foods for Your Brain
(4) ProPeas Concentrated pea protein
(6) Health Benefits of Butyrate from Fiber