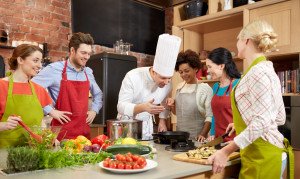 Spice up your corporate Wellness program with Celeste Davis' story of going from Fat, Sick and Tired to Wonderfully Well. Celeste's wellness journey began in the year 2000 at 42 years of age.
Her employer's corporate wellness program results indicated her true body age was that of a 67 year old woman. This news motivated Celeste to find answers and 4 years later she finally eliminated Type 2 Diabetes, Irritable Bowel Syndrome, Eczema, Plantar Fasciitis and depression in just 21 days. In four months time she removed 76 pounds and has stayed well and fit for the past 10 years.
Celeste's program includes education on how to increase energy, reverse chronic disease and premature aging, reach a comfortable weight and rest well.
People who follow her 4-Month program, My Busy Healthy Life improve digestion, drop toxic fat and normalize their blood pressure, blood sugar and cholesterol. Celeste teaches simple ways to choose, prepare and enjoy healthy foods and a healthy lifestyle.
Book your Corporate Wellness event and we will get back with you within 24 hours!