Lavender and Thieves Oil
I first learned about Thieves Oil from my friends Sabine Barnett and Mary Arnold in Franklin, Tennessee.  Both Sabine and Mary are experts on the values of  essential oils.  I was searching for a healthy alternative to standard toxic cleaning products and they recommended Thieves Oil.  The name is certainly intriguing and the story behind the oil was convincing so I tried a bottle and I LOVED IT.  The cleaning power is fabulous, the aroma is amazing and you receive health benefits just from breathing it, rather than having your health destroyed from breathing it.  It's also safe for kids so now there's no excuse-your kids can do it for you.  Be sure and tell them the Thieves story.
You can order it and watch a video about Thieves Oil here.
Here's the story
Young Living's Thieves essential oil blend was created based on the historical tale of four thieves in France who protected themselves from the Black Plague (which killed thousands just by contacting someone with the plague). They used a secret concoction made with cloves, rosemary, and other aromatics while robbing victims (and mass graves) of the killer disease.
When captured, they were offered a lighter sentence in exchange for their secret recipe. Young Living's proprietary Thieves oil blend includes clove, cinnamon bark, rosemary, lemon, and Eucalyptus radiata and has been specially blended to offer the same kind of defense. Thieves has been university tested and found to be highly effective against airborne bacteria. (more info:  Thieves product info page).
Other Thieves Products besides the essential oil:
Thieves Foaming Hand Soap contains aloe  and vitamin E, both renowned for their skin- nourishing benefits.
Thieves Dentarome Ultra contains calcium carbonate, a natural whitener for teeth.
Thieves Household cleaner is a concentrate so you can dilute it with water to maximize the amount of cleaner in each bottle.
Key Ingredients: Young Living's Thieves essential oil blend contains clove, lemon, cinnamon, Eucalyptus radiata, and rosemary.
I've only used the Household Cleaner, hand soap, antibacterial waterless cleanser and the oil but I do have an amazing story!
It was 3 am the day  after Thanksgiving.  Phil and I had just finished painting the kitchen and the living room.  We had even gone to TJ Max to buy a new mirror for the living room at about 9:45 PM the night before.  We were stoked.  We loved the new look, it was our first "co-decorating experience" it was a blast!
We finished our painting and decorating about 3 am and were enjoying our new look and the joy of doing it together when we both noticed how dingy our carpet now looked.  Ugh.  We were tired.  We couldn't wait until morning and rent a carpet cleaner because it wouldn't be dry for company.  Phil had a brilliant idea.  Thieves Oil Cleaner.  Let's try it.  We put a few capfuls in a spray bottle, filled it with water and Phil got down on his hands and knees (what a guy) and cleaned the entire living room and dining room BEIGE carpet with Thieves Oil cleaner and a wet cloth and a dry cloth. The carpet looked BEAUTIFUL and smelled fantastic!  The truly amazing thing was it stayed clean looking for a long time.  We weren't sure since it was an oil base but I guess it's a different kind of oil!
We use Thieves Oil in place of all other cleaning products.  My friend Wendy Staas said she uses it in the washing machine, I haven't done that .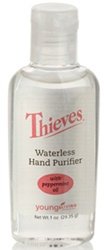 We also like the foaming hand soap and hand sanitizer that won't ruin your immune system with antibiotics like the typical grocery store brands.  They've  recently developed toothpaste, dental floss, although I haven't tried that yet.
One other fun experience using Young Living Lavender Essential Oil
This summer when we moved onto the farm (read about my Fru-Fru Farmers experience in my blog), we had a mattress that had been stored in the barn for several years.  It was a brand new mattress, great quality and in a clean place but did have that musty storage-smell.
How to get that smell out?  I remembered reading about using Lavender and Baking Soda as a deodorizer, antibacterial and cleanser on Facebook so I looked it up.  Calli, of Make It Do wrote a great blog with photos about this process.  Well, I tried it and it worked GREAT!
Wow, it smelled fabulous and fresh and looked clean and fresh.  Simple and inexpensive.  While a bottle of essential oil is an investment, you only use a few drops at a time so it goes a long way.   A benefit of lavender is it's calming effect-helping you go to sleep…perfect for cleaning your mattress.
The mattress project worked so well when it came time to retrieve a suitcase from the musty barn I cleaned the suitcase with lavender and baking soda mixture and then put a drop or two of lavender oil on cotton balls and tucked them in the corner and zippered pockets of the suitcase, again…storage-smell gone!  Ahhh…calming lavender for my trip. Read more about the benefits of Lavender here.
Order Young Living Lavender here.
Disclosure:  I do receive a small commission from Young Living Oils if you order from this link.  I only recommend products I love and use.  Commissions help to pay the costs of keeping this website up and running with information, recipes and entertainment for your Busy Healthy Life to keep you and I Wonderfully Well.