Pineapple Cilantro Lime Dressing
I'm always looking for new ways to enjoy fresh greens and veggies…aka salad.  This one happens to provide TONS of health benefits as well!
This week we had two events back to back; our featured recipe was the black bean salsa salad…in our book Wonderfully Well (page 233 in original version, 253 in amazon paperback version).
I wanted a Mexican type flavor and had a great variety of fruits and veggies left over from our events so…I decided to play!  This is what I came up with.
The health benefits of this dressing are amazing!  Typical salad dressings are just flavorful fat with no health benefits…not this one!
The pineapple, cilantro and lime are all digestive aids and the avocado just happens to be one of the best foods you can eat with over 25 different nutrients plus the fact that Dr. Johanna Budwig, a cancer researcher and the creator of the Budwig Diet found that enzymes in avocado actually break apart cancer cells.  For more health benefits see the list under the recipe below.
I pulled out my Salad Bar Box and had some fresh baby spinach, finely shredded carrots, orange bell peppers, red onion, avocado, more pineapple & cilantro and sunflower seeds.  These made a visually beautiful and delicious salad.  I also had some really tiny asparagus spears that were excellent raw!
You could add your favorite beans or some free range grilled chicken or turkey and make it a meal.  Serve the Key Lime Pie for dessert for a visual and nutritional "wow" factor.
I felt like I was at a gourmet restaurant….you would pay over $15 for a salad like this in a restaurant…mine cost a couple of bucks.
If you just can't handle spicy…leave out the jalapeno and the red pepper flakes.
Let me know how you like it and if you would, please share it with your friends on Facebook and Twitter.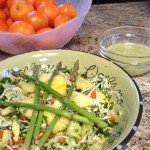 Print Recipe
Pineapple Cilantro Lime Dressing
A crisp fresh and slightly sweet salad dressing with tons of nutrition.
Ingredients
1/3

cup

fresh pineapple

2

Tablespoons

chopped jalapeno

2

Tablespoons

chopped cilantro

1/4

of a small avocado

2

Tablespoons

lime juice

2

teaspoons

Grape seed oil

1/4

teaspoon

organic ground cumin

1

Tablespoon

minced green onion

1/8

teaspoon

red pepper flakes
Instructions
Put all ingredients in magic bullet or mini food processor. Blend until smooth. If it is too thick for your liking add more pineapple or a little pineapple juice.
Notes
Health Benefits of This Dressing
Lime is an excellent source of natural sodium that helps to break up calcium deposits such as hemorrhoids, arthritis, kidney and gall stones and calcification in your arteries.
Pineapple is full of Vitamin C to boost your immune system, prevent macular degeneration, and help to digest proteins. 1 cup of pineapple meets over 100% of the RDA for Vitamin C
Pineapple also provides 75% of the RDA for manganese, an important mineral for skin and bone health.  Add some Pineapple to your BarleyLife and you increase the antioxidant activity of Super Oxide Dismutase, the powerhouse antioxidant that protects and repairs your cells.  Manganese also provides blood sugar control.
Cilantro (coriander) is great for blood sugar control, digestion, anti-inflammatory and lowering LDL "bad" cholesterol and raising HDL "good cholesterol.  Cilantro has phytonutrients that act as antibacterial, destroying the salmonella bacteria and antibiotic.
Jalapeno Peppers have many health benefits.  Capsaicin, a powerful phytonutrient in all hot peppers is anti-inflammatory, provides pain relief, reduces cholesterol and triglycerides, clears congestion, boost your immune system, help stop the growth of prostate cancer,
These foods are part of many "traditional" diet where bacteria and parasites are common. Consider how common these are in Mexican or Island foods...I find it fascinating that God put these wonderful foods where people who needed them could find them...God's Pharmacy.