Gingerbread Apple Nachos
Gingerbread Apple Nachos
You've been invited to a half dozen "Bring-Your-Favorite-Treat" holiday parties.  You don't have time to look for recipes or make Aunt Susie's famous fudge…what to do?  Forget stopping by the grocery store for a quick holiday appetizer and picking up the same thing everyone else is bringing.  This quick and easy Gingerbread Apple Nachos is not only yummy to the tastebuds but eye candy as well.  You'll smile to yourself when your friends and family say, "did you really make that yourself?".
The Fall Spice Blend is borrowed from Tadka Pasta.  Make a double or triple batch and use the Gingerbread Apple Nachos as your "go-to" holiday recipe.  It would also be wonderful in a cup of tea or warm coconut or almond milk.  See more from Tadka Pasta (1)
Gingerbread Apple Nachos are not only tasty but also brings health benefits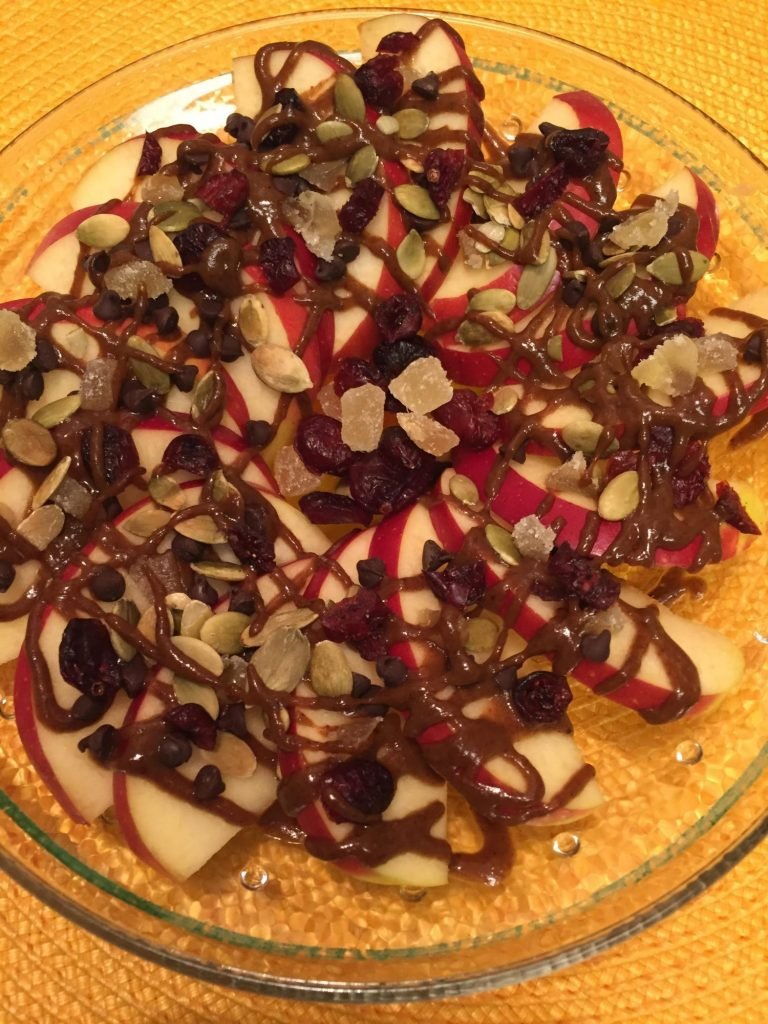 Apples, Almond butter, Coconut Milk, Coconut Oil and Pumpkin are alkalizing.  This will help to offset the other foods you may consume at a holiday party.
The apple peel contains Quercetin; a plant based anti-oxidant called a "flavonoids"
Flavonoids are a diverse group of phytonutrients (plant chemicals) found in almost all fruits and vegetables. (2)
Quercetin contributes to healing leaky gut, is cancer-protective, and anti-inflammatory.  It's also known to benefit brain health.
Surprisingly, Molasses, a derivative of the cane sugar making process is also nutrient dense.
Did you know a tablespoon of blackstrap molasses has 20% of your recommended calcium intake, 22.5% of your recommended magnesium intake and almost 40% of your recommended iron intake! (3)
The spices in the Fall Spice Blend are warming and anti-inflammatory.
Cinnamon is anti-inflammatory, anti-oxidant and known to lower blood sugar.
Ginger is another anti-inflammatory star.  Ginger's anti-inflammatory effects can benefit muscle and joint pain, and osteoarthritis.  Gingers powerful antioxidant and flavaol properties are also used to treat nausea, improve digestion, balance blood sugar, reduce cholesterol and significantly reduce menstrual pain.
Studies suggest that ginger can protect against age-related damage to the brain. It can also improve brain function in elderly women. (4)
Who knew Cloves, also anti-inflammatory and anti-oxidant, are known to improve liver, bone and gum health along with many other health properties.
Test-tube studies show that the compounds in cloves may reduce cancer cell growth and promote cancer cell death. More research is needed to confirm these effects in humans. (5)
Cardamom is one of my favorite new flavors, and is also one of the most expensive spices in the world.  A recent purchase at Whole Foods Market revealed bulk Cardamom pods at over $46 per pound.  Thankfully, you would rarely use a pound of cardamom pods.  Cardamom is a powerful digestive aid, helping to reduce gas and possibly reduce obesity. (6)
Nutmeg brings the memory of a warm mug of Egg Nog on a cold winter night.  A little goes a long way so just use a pinch in this recipe.  Nutmeg has many anti-inflammatory benefits, and is packed with vital minerals.
Other health benefits of nutmeg come from potassium (for heart rate and blood pressure control), zinc, and iron (for red blood cell production and as a co-factor for cytochrome oxidases enzymes) as well as B-vitamins, vitamins A and C, folate, riboflavin, niacin, and the flavonoid antioxidants betacarotene and cryptoxanthin, which are essential for optimum health. (7)
Now you can enjoy your Gingerbread Apple Nachos with the satisfaction of knowing they not only look and taste amazing but they are helping you become healthier with every bite.
Learn More
(1) Fall Spice Blend: https://tadkapasta.wordpress.com/2012/10/08/full-flavored-fall-spiced-peanut-butter/
(2) Flavanoids: https://www.livescience.com/52524-flavonoids.html
(3) Health Benefits of Molasses: https://www.bloglovin.com/blogs/primalbitesblogcom-9792613/ginger-bread-almond-butter-1901420965
(4) Health Benefits of Ginger: https://www.healthline.com/nutrition/11-proven-benefits-of-ginger#section10
(5) Health Benefits of Cloves: https://www.healthline.com/nutrition/benefits-of-cloves#section3
(6) Health Benefits of Cardamom: https://www.healthline.com/nutrition/cardamom-benefits
(7) Health Benefits of Nutmeg: https://foodfacts.mercola.com/nutmeg.html
Print Recipe
Gingerbread Apple Nachos
Gingerbread Apple Nachos are a simple yet delightful appetizer for your holiday events. The warming ginger and cinnamon flavors accent the apple slices and the toppings make it a delightful treat for the eyes and the tastebuds.
Ingredients
Gingerbread Apple Nachos
2-3

Thin Sliced Tart Apples like Granny Smith

2

Tablespoons Enjoy Life Mini Chocolate Chips

2

Tablespoons dried cranberries

2

Tablespoons Candied Ginger

1

Tablespoon Pumpkin Seeds

Gingerbread Pumpkin Almond Drizzle
Gingerbread Pumpkin Almond Drizzle
2

Tablespoons

Real Molasses or Raw Organic Honey

1

Tablespoons

Unrefined Extra Virgin Organic Coconut Oil

2-3

Tablespoons

Full-Fat Coconut Milk - use to thin sauce to desired consistency

2

Tablespoons

Organic Cooked Pumpkin Puree

2

teaspoons

Fall Spice Blend

1/4

teaspoon

Pink Himalayan Salt

3

Tablespoons

almond butter
Fall Spice Blend (double to have extra for holiday baking)
1

teaspoon

powdered cinnamon

1/4

teaspoon

ground ginger

1/8

teaspoon

ground cloves

1/8

teaspoon

powdered cardamom

pinch

freshly grated nutmeg
Instructions
Fall Spice Blend
Make the Fall Spice Blend first by measuring and blending all the spices together, stir well. You won't use it all, I like to make a double batch to have for another recipe.
Make the Gingerbread Pumpkin Almond Drizzle
In a sauce pan combine all ingredients except the almond butter, stir until well blended.

Simmer on low for 1-2 minutes, this helps the spices to be more fragrant.

Stir in the almond butter until well blended.

Simmer 1-2 minutes longer.

Remove from heat. Stir occasionally until cooled.

Store in a glass container in the refrigerator for up to 1 week, in Freezer up to 1 month.
Put together the Gingerbread Pumpkin Nachos up to 1 hour prior to serving.
Cut apples in 4 pieces, remove the core and slice thin. I like to use my mandolin.

Toss sliced apples in 1-2 teaspoons of lemon juice to prevent browning.

The apples arrange easier if you fan out and place each quarter after it is cut, your "nacho-look" goes together much easier...trust me! lol!

Arrange apples in a circle, overlapping from the outside to the middle, like nachos. For a small party 2 medium apples will be plenty.

Use 4 medium apples for an event.

Use some of your Gingerbread Pumpkin Almond Drizzle around the bottom of the bottom layer of apples to help the next layer hold a little better.

Drizzle apples with Gingerbread Pumpkin Almond Drizzle.

Sprinkle with toppings, chocolate chips, pumpkin seeds, cranberries, and crystalized ginger.
Notes
I made two batches of this for two events on the same day.  One held overnight and all day and it was great!
For the smaller event I used a salad plate and 2 medium sized apples.
For the larger potluck event I used a dinner sized plate and 4 medium apples.
Everyone loved this Gingerbread Apple Nachos!  Try it and if you do, post #gingerbreadapplenachos #benourished4life on your post!
Fall Spice Blend from Tadka Pasta
https://tadkapasta.wordpress.com/2012/10/08/full-flavored-fall-spiced-peanut-butter/