Apricot Cranberry Cardamom Compote
I love cranberries!  I can eat them plain, on pancakes, salads, with turkey and my all time favorite…leftover turkey sandwich with some thing cranberry on it.   HOWEVER since I began to eat healthy in 2005, I've avoided the traditional cranberry dishes due to high sugar or worse, high fructose corn syrup.
Thanksgiving 2013 changed my life when my step-dad, Don found this amazing recipe on epicurious.com and "made it over" to a healthier version.  Now I won't lie…it still has lots of dietary sugar…remember it's a great TREAT,  not a staple but this is definitely a healthier version and waayyy healthier than canned cranberry sauce.
Healthy Ingredients
Cranberries have a fabulous nutrition profile going beyond UTIs.  Cranberries are also antioxidant, anti-inflammatory, and anti-cancer.
Cardamom is an excellent spice for high blood pressure, digestion and even an aphrodisiac…hmm…
Apricots have a sweet nutrition profile as well high in Vitamin A, Potassium and fiber.  Be sure to purchase organic, unsulphured dried apricots and be sure they aren't from China.
The next time I make this compote I'm going to try it without any extra sugar; only the raw local honey and maybe a little stevia if it needs more sweetness.
Don's version used agave nectar and honey but I needed to make it a little healthier so I replaced several items.
Replace Apricot Nectar with Organic Apple Cider
Apricot Nectar – Ingredients – 30% apricots, sugar, vegetable gum, ascorbic acid, colors, natural flavor
Organic Apple Cider – Ingredients – Organic Apples
Replace Sugar or Agave Nectar with Coconut Sugar – remembering this is a holiday treat not a staple
Glycemic Index Sugar:  100
Glycemic Index Coconut Sugar: 35
Replace Apricot Preserves – making my own by cooking down dried apricots
Apricot Preserves – about $4.00 per small jar, 80 grams sugar per half cup
Cooked Down Organic Apricots – 10 dried apricot halves, filtered water, 20 grams of sugar all from fruit
Prep
Cook down the dried apricots on low with some water; you may need to add water as they rehydrate; cook until they are soft like apricot preserves.  You can actually use this for apricot preserves too!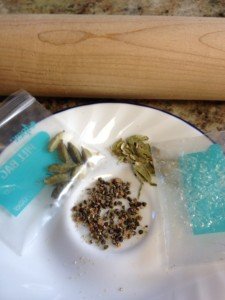 Crush the Cardamom Seeds by putting them in a baggie and crushing with a rolling pin.  Remove the skins.  This is kind of fun to do.
Now that your prep is done just follow the recipe.  This can be divided and frozen.  It would be yummy mixed with cream cheese or organic yogurt of kefir for a dip.  It would also be FAB as the topping on a cookie bar recipe.  Let me know how you use it and love it.
Print Recipe
Apricot Cranberry Cardamom Compote
This recipe is modified from the original on epicurious.com.
Ingredients
8

whole

green cardamom pods

1 3/4

cups

organic apple cider

no high fructose corn syrup

1/2

cup

coconut sugar

10

halves

dried organic apricots to cook down

1/3

cup

Fresh Lemon Juice

1/4

cup

honey

6

ounce

package dried organic apricots

quartered

12

ounce

bag cranberries

1 1/2

teaspoons

grated lemon peel
Instructions
Put 10 apricot halves and 1 cup water in a sauce pan, simmer on low until they are soft and thickened and look like apricot preserves.

Coarsely crush cardamom in mortar with pestle or place in resealable plastic bag and crush with rolling pin; discard skins.

Bring next 5 ingredients and cardamom to boil in heavy large saucepan over medium-high heat, stirring until coconut sugar dissolves.

Add dried apricots; cook 2 minutes.

Add cranberries and cook until berries pop, stirring occasionally, about 9 minutes.

Transfer to bowl.

Mix in lemon peel.

Cover and refrigerate overnight.

(Can be made 1 week ahead. Keep refrigerated.)

Serve cold or at room temperature.